Thank you for visiting Joe's Window Cleaning. We provide a professional and reliable window cleaning service in Nottingham and have just taken on new customers in your area. Now we'd like to offer our service to you too!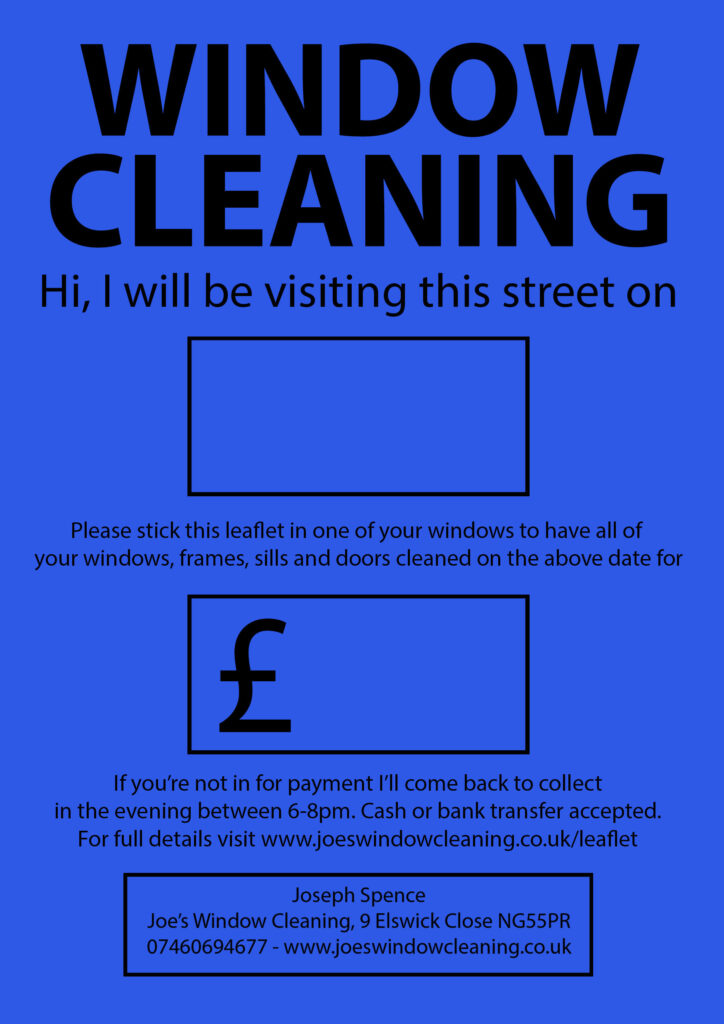 On Monday 17th August 2020 we will be cleaning windows on the following streets in Gedling, Nottingham –
Harlow Grove
Kings Avenue
Berry Hill Grove
Rhyl Crescent
Charles Court
Mountbatten Grove
Margret Crescent
Elizabeth Grove
Philip Grove
Queens Avenue
If you live on one of these streets you should have received our flyer.
Our Window Cleaning Service – what's included?
This flyer entitles you to cleaning of all external windows, frames, sills and doors for just £9 (unless otherwise quoted). This price does not include the removal of egg/sellotape/paint/cement splashes/etc. from the glass, frames or sills. If we can only access and clean the front windows of your house the price will be £5.
If you put up your flyer Joe will be cleaning your windows personally. It will be him that comes to collect payment in the evening too. We only drop these flyers the first time we visit an area. If you'd like to set up a regular clean Joe will be happy to arrange that when you see him, otherwise he'll leave you with our card so you can give us a call whenever you're ready to have your windows cleaned again.
Other cleaning services
Conservatories are not included in this price but we do provide a conservatory cleaning service, as well as internal window cleaning, PVC cleaning, soffit, fascia and gutter cleaning. To book any of these services or if you require any further information please feel free to get in touch either via email (click here) or give Joe a text/call directly on 07460694677.
Payments
We accept payments via cash or bank transfer and offer the GoCardless service to customers who have their windows cleaned on a regular basis. If you don't see Joe for payment in the daytime or the evening then he'll post our bank details through your letter box so that you can make payment by bank transfer once you're ready.
Contact
Please don't hesitate to contact the office via email or Joe on 07460694677 if you have any questions at all. Thanks again, the Joe's Window Cleaning Team.